I sell prints of the pictures below in editions of 250.
They are printed on 50x75cm Hahnemühle Fine Art paper with a 5cm white border, signed and numbered on the front, rolled in tubes and sent worldwide.
The price is 160 euros including shipping costs.
Bigger dimensions on smaller editions are available. Other supports too. Just ask me for information if interested.
Naturalia: Chronicle of Contemporary Ruins series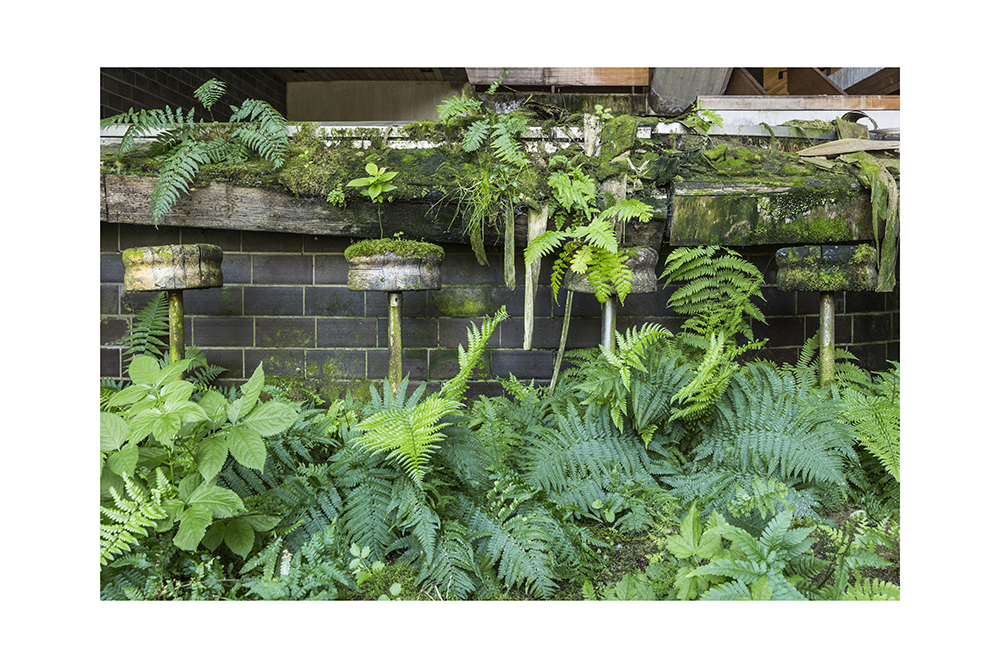 Bar, Croatia
I shot this picture in an abandoned school in Croatia. It shows a detailed view of the bar that was located in the atrium of the main building and was supposed to be the student's life place. It was actually a political school, built in 1970 and used until 1990 when it suffered the burst of Yugoslavia. A prime minister got out of this school.
There was not much to shoot in this place, an empty gymnasium, a dark theater, but this overgrown bar was worth the trip by itself. I realized this shot on my first trip to former Yugoslavia in summer 2016. During this solo journey, I started in Budapest and covered 5500 km across what are today Bosnia-Herzegovina, Serbia, Croatia, Kosovo, Montenegro, Macedonia and Slovenia. This place was one of the highlights of my trip and this picture is one of my favorites ever in my Naturalia series.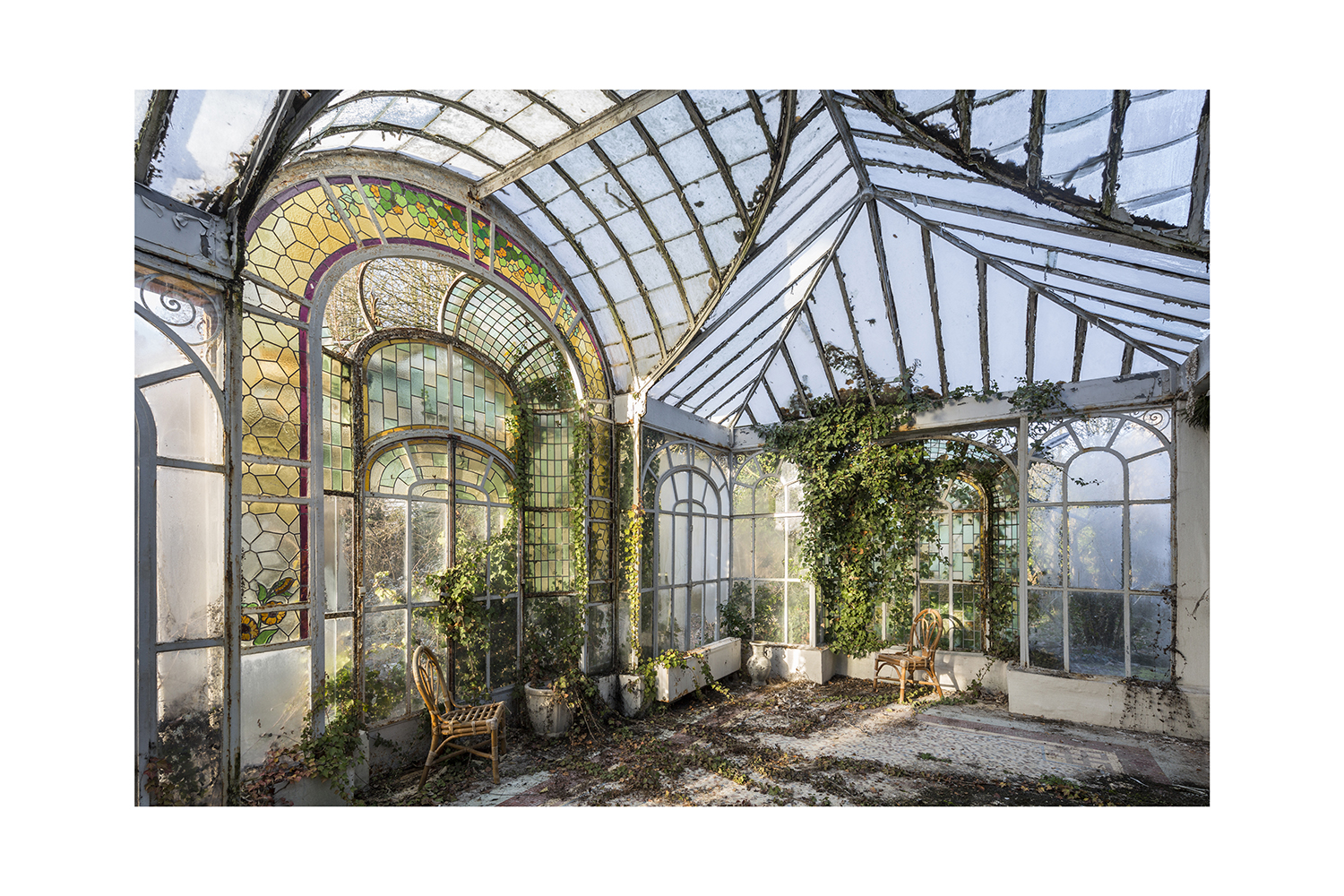 Winter garden, France
This winter garden is part of a large mansion in a small village in rural France. The mansion's domain is quite large also and includes a few other buildings. Even if it may look different on the picture, everything was quite recent and not long abandoned so this room is the only one I shot there. I shot every possible angles though! Of course, the trip was worth it just for that winter garden, especially with the morning light of January. It is a winter garden after all!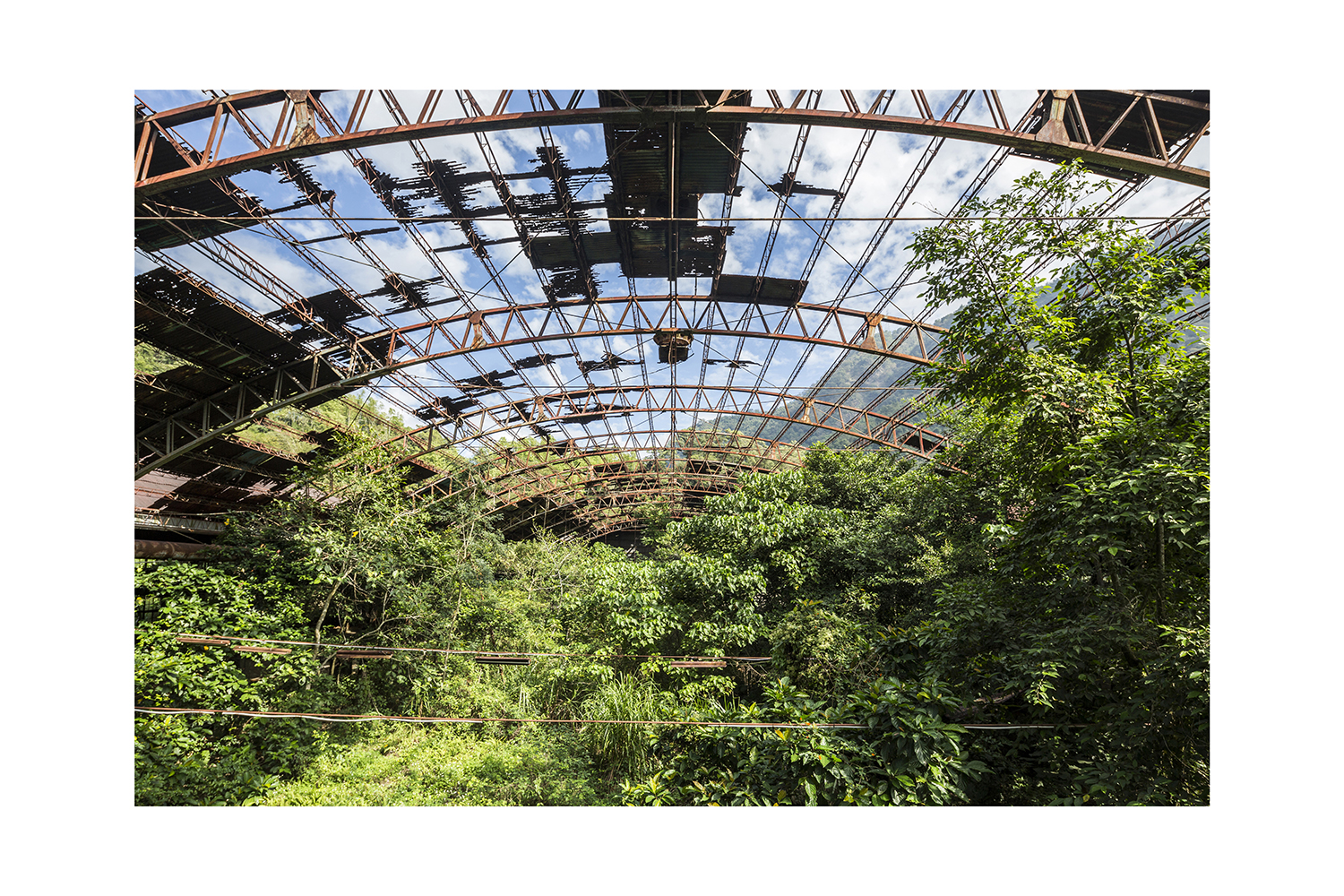 Warehouse, Taiwan
This warehouse is part of an abandoned sawmill. It is so overgrown that it is hard to tell if it was used for production or just storage. Anyway, once the work place of almost 2000 workers, the facility is now home of tens of monkeys that scared the hell out of me when they started banging on what is left of the roof.
I shot this picture during my trip to Taiwan at the end of 2017. During that trip, I shot as much abandoned places as casual touristic places. This country was a great discovery for me, I will especially remember the night markets where we went to have diner almost every day. Those markets were actually a great photographic subject too!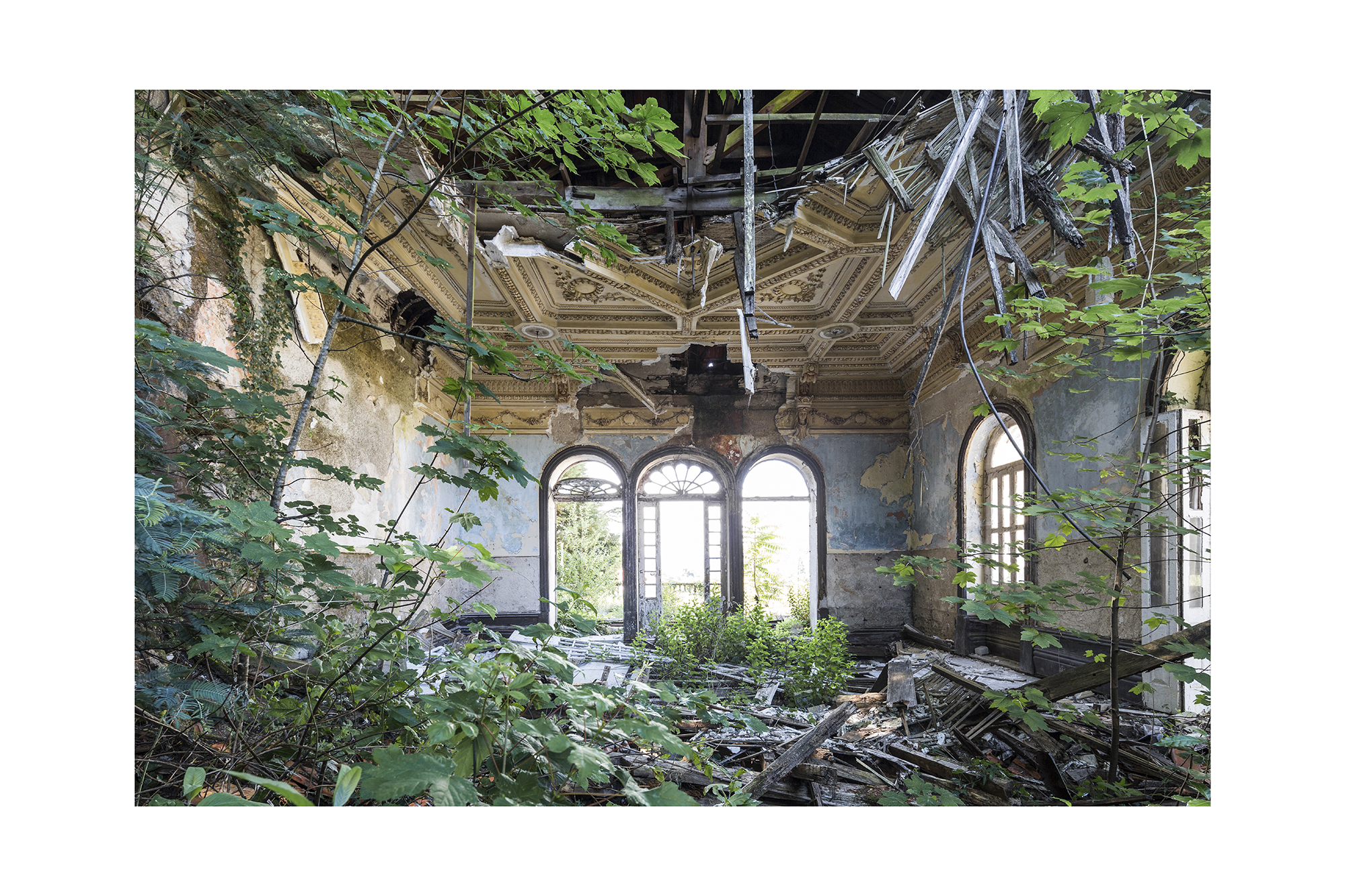 Hotel, Portugal
This is the only part left of a beautiful hotel located in a small town in Portugal. A few months before, there was still the main building with the rooms but I arrived too late and it had been demolished. This dining room shows how magnificent that hotel was. Even that part has its days counted as it is slowly collapsing. There is no roof anymore behind where I am standing.
I realized this shot during a 10-day solo trip to Portugal. I shot a few beauties during this trip including this dining room that has everything I like: decay, colors, nature… This trip ended with a 3-day visit of the city of Porto that I did not know at the time. I like to take advantage of being abroad to not only visit abandoned places but also make a bit of normal tourism!
The Lost World series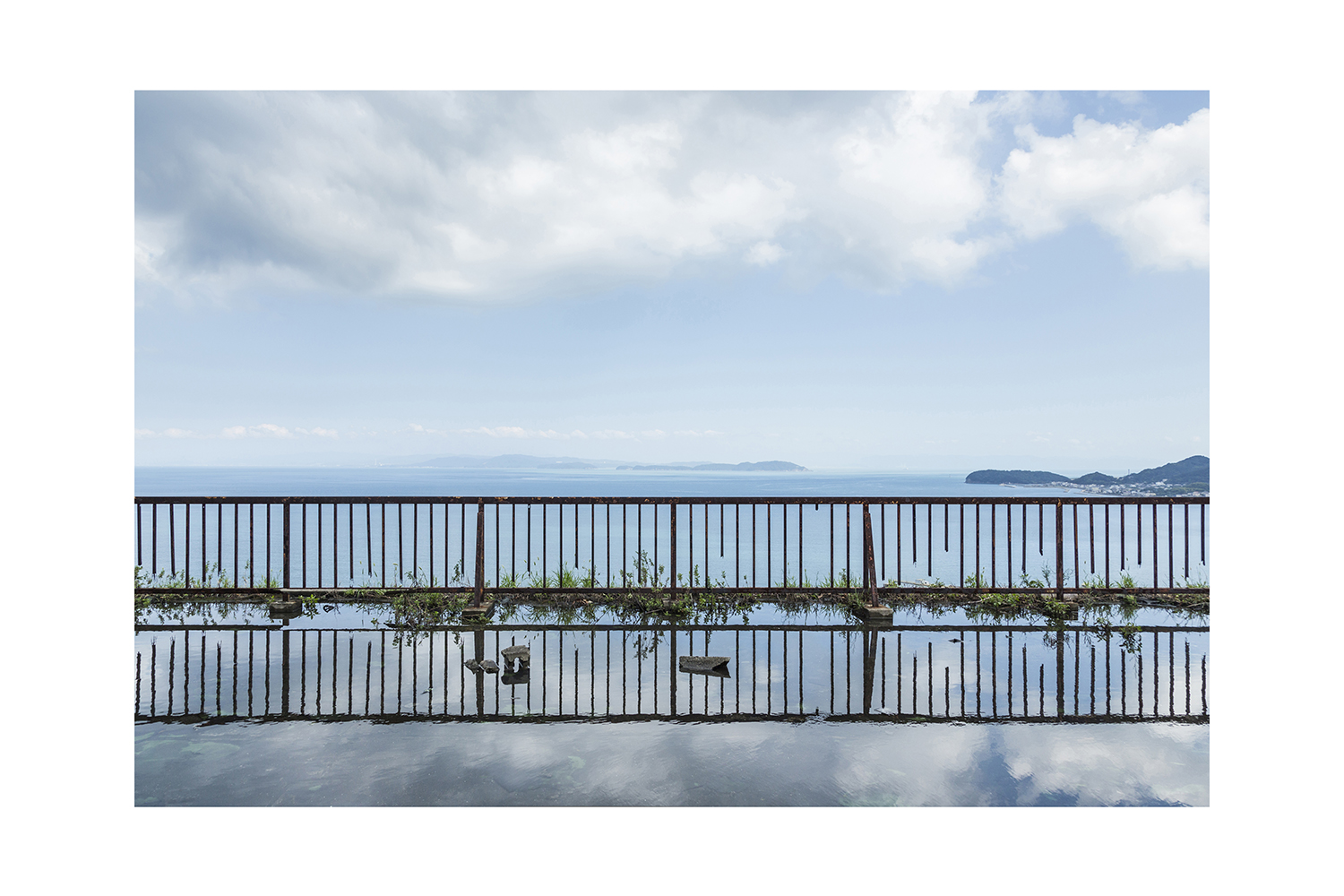 Hotel, Japan
I shot this picture during an 18-day trip to Japan in September 2018. I made this trip with my good friend Nicolas with whom I did not only visit abandoned places but also did some classic tourism as it was my first time in Japan. We spent a few days in Tokyo and visited several cities like Kyoto, Hiroshima and Nagasaki as well as a few interesting landmarks like the Miyajima Torii or the Kokoen garden in Himeji that I loved.
This hotel is located on the southern coast of Japan not so far from Kobe-Osaka. It was one of the highlights of the trip as this hotel had a few interesting rooms to shoot but also a beautiful bar that will certainly be one of my future prints. It was a 5-storey building and this roof was actually on the second floor right above the bar. With big typhoons in this area and stagnating water on that roof, I am pretty sure that it will soon collapse.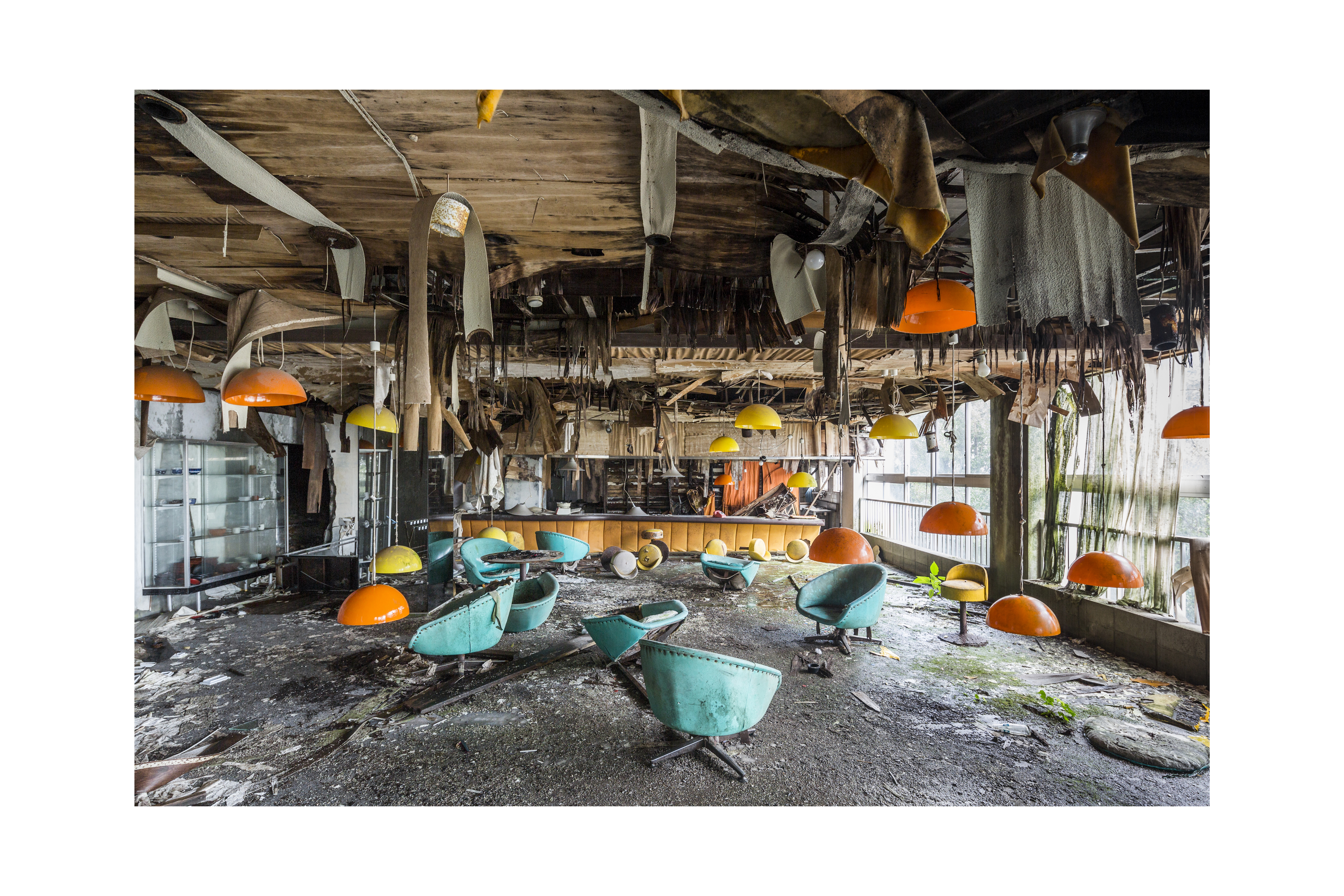 Hotel, Japan II
I shot this picture at the same location that the one above showing a flooded roof and a sea view. This bar is actually located right below that roof. To me, there is everything I need to make a good picture: colors, geometry, decay and even a light touch of nature coming back if you look well. Right behind me, there was another area that was more the lounge part of this bar. It was as beautiful as this one with its beautiful blue sofas and chandeliers. But this is another story…
Baikonur series
Baikonur I
I shot this picture during what is to this day my most amazing adventure. I infiltrated the Cosmodrome of Baikonur, an active site where rocket launches often take place, walked 20 km through the desert, by night with a 22 kg backpack. I slept three nights in abandoned hangars before coming back and walk again 20km by night. During this trip, I could shoot two abandoned space shuttles in a hangar and an abandoned rocket in another hangar. The story behind this picture, both the Soviet Space Program and my expedition to get there, are told in detail in my book: Baikonur/Baïkonour available in French and English.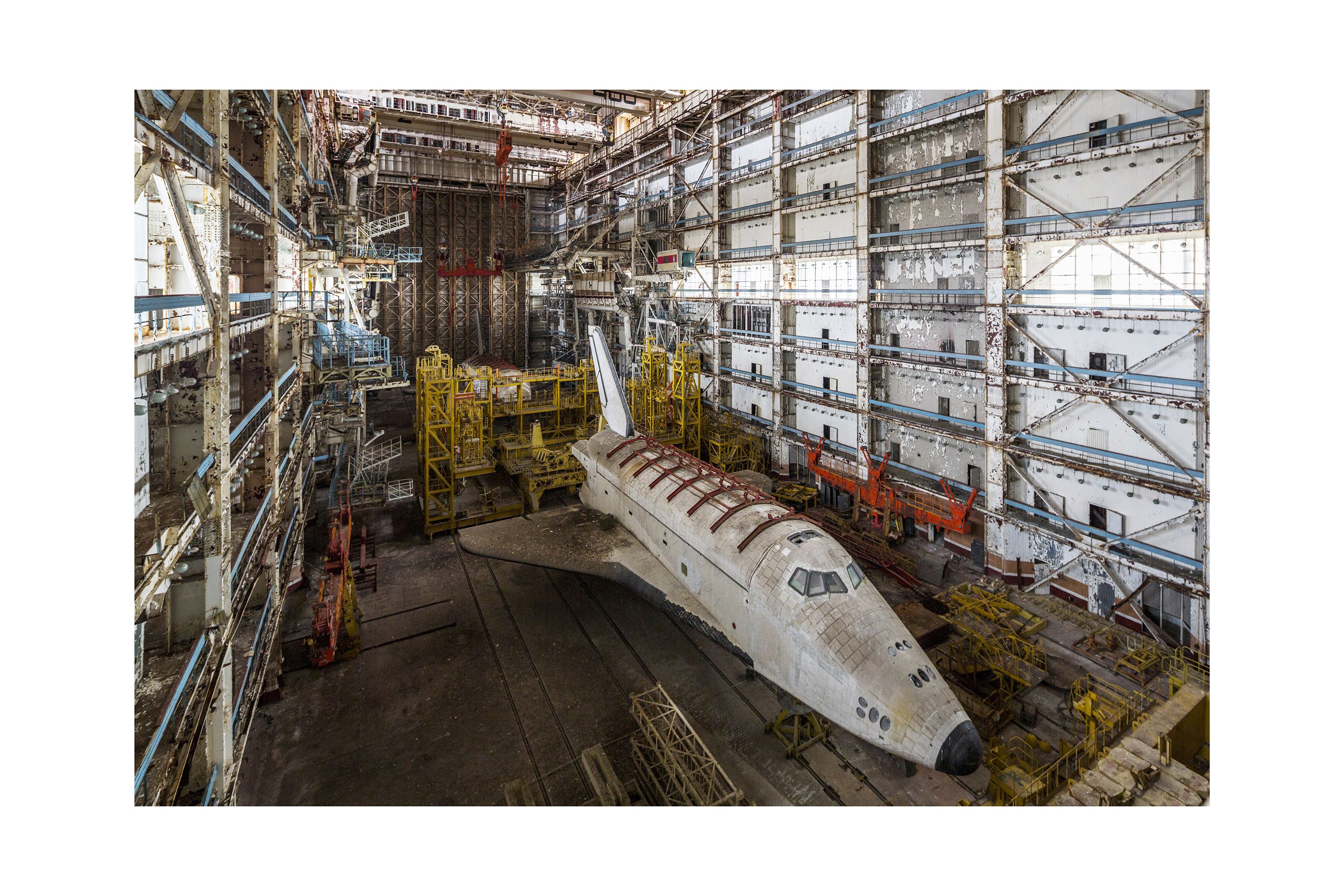 Baikonur II
The first print from the Baikonur series was a success, so here is a second one!